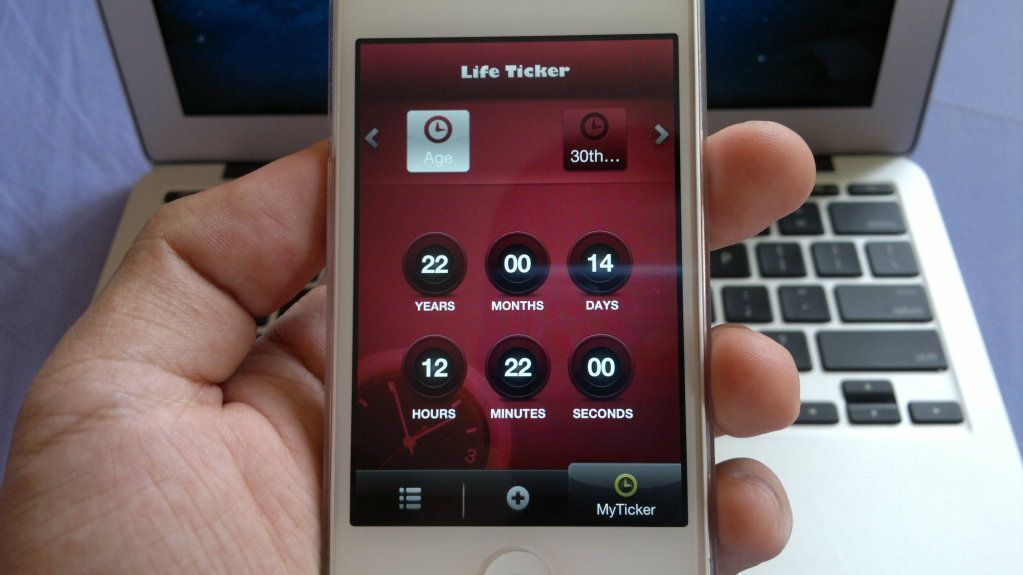 These days time passes by so quickly. We all know that time is the most precious resource that we have. If you give an inspired person time, it is amazing what he/she can do with it. But some of us just choose to let time passed by. We waste it doing nothing. Problem is, when we do need extra time. It is already too late. Now I'll talk about an app that made me realize this. It's called LifeTicker. It is basically an app that would tell you how many years, months, days, hours, minutes, and even seconds! That passed by your life. So shall we begin?
Features
LifeTicker helps you track important people and things in your life!

Add your important life COUNT UP TICKERS like

- wife's/girlfriend's age
- kids' age
- parents' age
- brothers'/sisters' age
- friends age
- how long I own my iPhone
- how long I own my pet
- how long I own my car...

or your important life COUNTDOWN TICKERS like
- pregnancy countdown till baby comes
- countdown time till vacation
- countdown time till exam
- countdown time till concert, event, happening
- countdown time till meeting, deadline or business launch
- countdown time till hot date...
So what's a good thing about this? Well, for me it worked as my personal countdown timer. I promised myself that I will bought my dream car when I reach the age of 30. So what about it? With this app I know exactly how much time I have left for fulfilling my dream. Well if you are interested, it is exactly 7 years, 11 months, 29 days, 19 hrs., 9 mins., and 30 secs. until my deadline. You might ask again so what? Personally speaking, this made me not waste my time. It put me back to my path. Now, I always do what I think would help me fulfill my dream. Well as stated on it's features. There are quite a lot you can do with it. One of my favorite features of this would be the countdown timer. It really helps you be more productive and efficient.
Design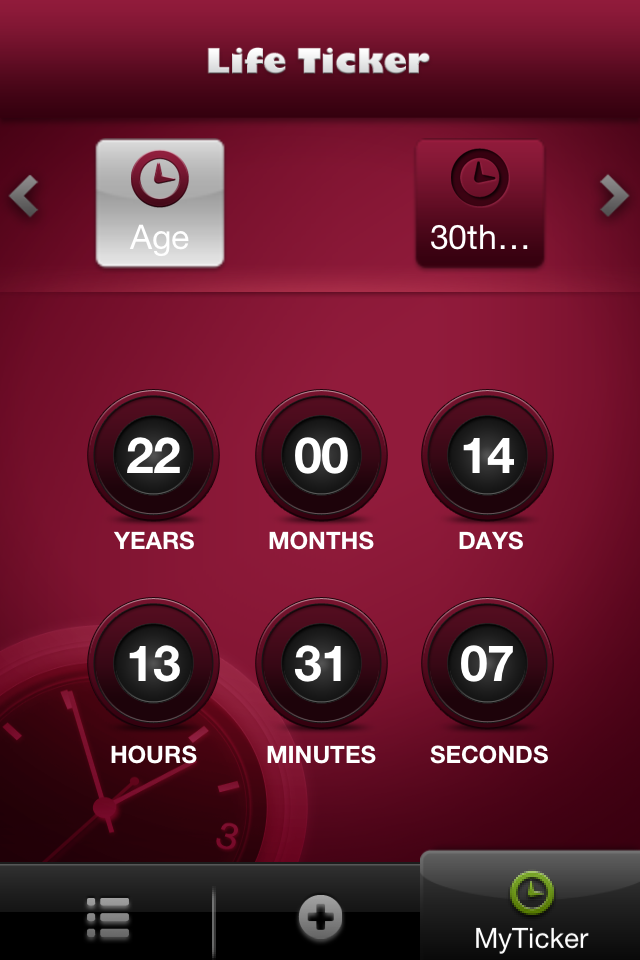 It has a very simple design. As I have talked to the developer he said to me that, they just wanted to make it simple, and not complicated. Set the time and that's it. Well I like the idea, but it's too simple for me. This is the first version though. So we might see more in the coming update. Like the developer have told me, "you can't give it all on start ;)". I discussed to him about the wallpaper. I told him, why not give the user the ability to match the timer with a specific wallpaper. Example would be a birthday photo to a birthday timer, wedding photo for anniversary timer, you get the idea. I have a tip for the developer. Why not make the wallpaper automatic? It will match the title to a specific wallpaper. So that the user wont do it themselves.
Performance
Well, it performs great! Didn't experience crashes or anything. When the timer is up. It will notify you. So it does performs well. Hmm what else? Well, it is quick when you're browsing through all of your tickers. I just hope as this app improves and adds more features, its performance will be as great as now.


Verdict
I would give this app 4/5. Why? It's a bit pricey for me. The pro version would cost you $1.99. For what it does, it's expensive. If they had priced it at $0.99, it would have been perfect. It is great at what it does, and like what I have said earlier. It would really make you productive and efficient. I promise you, when you see that clock ticking, it would change you for the better.
If you've got questions, comments or reactions. Just hit the comment section below.
Other Screenshot